"Highly recommended."--John Taylor, Midwest Book Review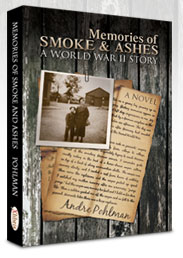 Memories of Stories of Smoke & Ashes is a dark novel firmly grounded in Polish and Hungarian history during World War II. Author Andre Pohlman experienced the Nazi occupation of Poland and the Red Army siege of Budapest as a child; Memories of Smoke & Ashes is inspired by both his own experiences and the stories his mother told him after the war. Told in the first person, Memories of Stories of Smoke & Ashes follows a mother's determination to protect her child at all costs during Warsaw's and Budapest's darkest times with little to aid her outside her own bravery and a medallion for good luck.
Drawing upon stories told him by his mother, Andre Pohlman has blended his own vivid WWII recollections as a young child to create an exciting tale of civilian turmoil in Poland and Eastern Europe. Historically accurate, Andre has used delightful dialogue and suspenseful events to capture both the confusion and uncertainty associated with ghetto life, the underground, and his eventual escape to safety and a startling discovery.
-- D.L. Luken, San Antonio, Texas